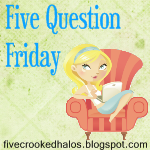 HAPPY FRiDAY THE 13th! Until my other blog is offically relaunched after it's extreme makeover, I'll be posting these little things over here :)

Here's this weeks Five Question Friday brought to you by Mama M.

1. What is your favorite "eat" on Thanksgiving?
I LOVE LOVE LOVE stuffing, (no celery though) topped with gravy, ohh it's a little taste of heaven. Second place is the sweets: sweetpotato pie, pumpkin pie, and these little mini pecan pie cookies my Aunt makes.
2. What is the name your best girl friend and the best trait about her or how you met (or heck, both!!)
Corrina, she's been my bestie since highschool even though we went to different schools. We met at the waterpark we worked at and have had our shares of ups & downs but always are there for each other, even though we live miles (and time zones) apart.
3. What would you say is one of your "weirdest" quirks?
Anything electronic where the numbers aren't on zero (like calculators or timers) or clocks that aren't set (on tvs, dvd players, microwaves, ovens) oh and everything has to be put up in its place before we leave the house. Dishes done, shoes in closet, etc.
4. What is your favorite genre of music? (Hip hop? Classical? Rock? etc.)
Oh gosh, I listen to everything. Seriously, Christian rock on the way to work, 90s Rock on the drive home, rap at night, country in the shower, haha it changes daily, sometimes hourly!
5. Are you a Night Owl...or an Early Bird?
Night Owl for the most part, I love sleeping in unless I have something worthwhile to get up for.