It's the Friday before the last home college football game in my town, my alma mater has not been doing that hot this season but hopefully we will have a win tomorrow! GO NOLES! And it's also the Friday before Thanksgiving! I'll be going to Louisiana to visit family next week and I couldn't be more excited!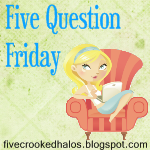 Anyways, here's this weeks Five Question Friday brought to you by
Mama M
.
1. Are you a Black Friday shopper?
Depends on what's out there and if it's a good deal. This year I most likely will be, along with my aunt, mother, and cousins.
2. What was your favorite childhood toy? (Think Easy Bake Oven, Cabbage Patch Kid, Shrinky Dinks, etc.)
PlayMobile, Nintendo, American Girl Dolls, GrandChampion Horses
3. Favorite Christmas movie?
It's a Wonderful Life (I know it's the classic favorite, but my mom got me hooked!)
4. What is the "must have" item on your Christmas list this year?
KitchenAid Standing Mixer! :)
5. Do you go all out with decorations or do you keep it simple and classy?
I LOVE CHRISTMAS and decorating for it is the highlight of my year. Not only do I decorate my own house, but I go to my parent's house to decorate theirs. If I could open a business decorating houses for Christmas I would, it's my favorite thing to do!