Twas the Friday before Christmas and all through the house,
not a present was wrapped not even picked out.
The stockings were hung on the mantle with care,
with hopes that maybe a tree with be placed next to there...

....Oh wait it's time for FIVE QUESTION FRIDAY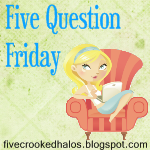 You should really send a big thanks to
Mama M.
for saving yall from my crazy poem/rap and while your there join in on our Friday fun! :)
Questions for Friday, December 18th: (Thanks to
Kyrsten
,
Liz
,
Brianne
, and
Keely
for their question suggestions!!)1. Which boygroup did you like most in your teens?
NSYNC.... seriously, there's pictures of me and my friends in 8th Grade wearing NSYNC shirts while holding there CDs and somebody even had the dolls! If only I knew where that picture was, I would post it... haha. BTW I still have all there CDs and a huge crush on Justin Timberlake!
2. Do you do Christmas cards, letters, photos, nuthin', all of the above?
I do cards, but not to a lot of people. Since I'm still the unmarried twenty-something, I get to be in my parent's Christmas card photo :)
3. If you could meet one celebrity who would it be and why?
Julia Roberts, she seems really nice and down-to-earth. Oh and Paula Deen (for obvious reasons)
4. Favorite thing to cook with (i.e. stainless, non-stick, microwave, debit card...cauldron, etc.)?
Depends... I usually go for the stainless but my favorite thing to cook with is my wok that my Mom got me a couple years ago. It's just so much fun to use.
5. What is the one thing you wear the most, besides your unmentionables?
Always have on diamond earrings that I got from my parents for my 18th Birthday. Other than that I
LIVE
in Reef flip-flops, they have been my favorite for years! I have every color and style. I guess that's the perk of living in Florida, comfy shoes year-round.