Whoa Dang! These weeks keep FLYING by, guess that's what happens in the real world. Well, it's Friday...again but at least that means it's the weekend and time for Five Question Friday!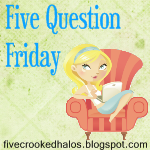 Don't know what this fun little blog carnival is? Well, here's how to play.... copy and paste the following questions to your blog post, answer them, grab the MckLinky code, and link up and of course link back to the Queen of 5QF Miss Mama M.!

Questions for Friday, 1/29/10:
1. Would you ever vacation alone?
Um no, I will fly on a plane by myself or drive by myself to a vacation destination but I would always meet someone there. Why would you want to go on vaca by yourself, it just doesn't make sense to me, what all would you do?

2. Do you go the speed limit?
Well here's the thing, I don't really pay attention to them unless it's a school zone. I usually just 'go with the flow' I assume everyone else is doing the speed limit so I just keep up with traffic. But those speed traps where the speed changes in 50 ft to something like 10 mph slower, I have been a victim of a speeding ticket and man oh man are those pricey these days.

3. Why did you start blogging/following blogs?
One of the girls I worked with was planning her wedding and would send me blogs where she got inspiration from and one click led to another and I ended up on SmittenKitchen. From then on I was hooked to cooking blogs and then to every other kinda blog. It's so addicting and there's so many great blogs out there! Oh and I started my blog last summer :)

4. Where do you shop for yourself?
J. Crew (best t-shirts ever!), Forever 21, Macy's (gotta have my Guess? jeans, they are the only ones that fit 'just right' and aren't super expensive)

5. What was the song that you danced your first dance with your spouse to at your wedding...or...what song would you like your first dance to be to?
I haven't gotten married yet but I would love to dance to Clair de Lune by Claude Debussy, such a beautiful song.



---------------------
Well, this weekend I'm going to my parent's house to spend time with my mom for her birthday (it was yesterday). We're going to dinner at an Asian Fusion resturant that's on top of a hotel, it's one of my favs and then heading to some new fancy wine bar. It should be a lot of fun, I just need to start packing...nothing like waiting for the last minute! Hope you have a great weekend as well! :)


And don't forget to join in the Blog Hop! :)