I know I haven't been blogging all week but I really can't miss this weeks
Five Question Friday!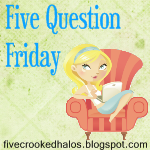 Questions for Friday, 2/26/10:
(Compliments of
Lily
,
Thorney London
,
Maryanne
,
Renee
, and
Mama M
)

1. Do you sing karaoke? If so, what is your go to song?
Sang Ice Ice Baby, once for my 22nd birthday with my friend Emma (who by the way is really good and a karaoke regular) but lets just say it was my one & only time.
2. What is your favorite coffee drink?
I was a latte kinda gal, but I don't drink any coffee drinks reguluarly.
3. If you could choose your own name, what would it be?
Well my name can easily be 3 in one so I have variety depending on who or where I am, and I kinda learned to like it. I've often been mistaken for a Sarah or Courtney. Not too fond of Sarah (that's what my little brother was gonna be named if he was a girl, haha) but Courtney is okay with me.
4. Were you ever bullied?
Not that I can recall. Thankfully I grew up with all boys in my family and neighborhood so it takes a lot for me to feel threatened.
5. How often do you eat fast food?
Not very often at all. Maybe once or twice a month when I really get that hankering for some MickyD's fries! But, I do order takeout from sushi places at least once a week so that's kinda my version of fast food.