WOW! It's that time again! My favorite day of the week... FRIDAY! :)
Not only do I have a lovely work-free weekend but Friday is date night this week, it got moved off my Menu Plan because I caught that 24hr-bug that was going around. I'm really excited about my date tonight! I have no idea where we are going for dinner or if we're going to play pool and darts afterwards or just hit up a movie. Either way I know we're gonna have a good time!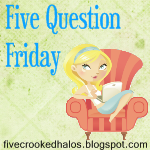 I know you wanna play along... the rules are simple, so simple they really aren't rules. You just copy and paste the following questions to your blog, answer them, come back, link up and grab the MckLinky Blog Hop code for yourself and then of course link your post back to our lovely hostess with the mostest... the one and only
Mama M.
!

Questions for Friday, February 19th:
1. Have you ever hit an animal with your vehicle?
Not to my knowledge, um but I almost hit a bird one time (I might have actually hit it, no evidence though). I have no idea what a bird is doing that low on the interstate, it obviously knew there are cars there.
2. When you see a string on your clothes do you pull it off or cut if off?
depends on if I have scissors near me or can find some... I really need to organize my desk.
3. Did you have your own room or share a room when you were young?
When I was 5 my brother who's just shy of 2 years younger than me shared a room. I think it was originally supposed to be playroom but it was so big and my parents side of the house my mom converted it into two rooms in one using these big shelving units as a wall down the middle so that we would be closer to them instead of on the other side of the house. But that was the only time we ever shared a room. A few years later we moved out of that house I got a hot pink sponge painted bedroom, it was so girlie and so early 90s -haha.
4. Would you rather wear the same thing for the rest of your life or eat the same thing for the rest of your life?
This isn't hard for me at all... I love food too much (heck, this is majority a cooking blog-haha) so I could live with one outfit. It would defiantly be yoga pants, a tank top, and a jacket because I could be comfortable yet stylish :)
5. What was your favorite TV show as a child?
Umm lets see this is tough! I loved watching the Looney Tunes cartoons and Scooby-Doo! Oh and Rugrats, All That, Full House, and Home Improvement (ohh JTT I was so in love with you!)